Edwin Flack was born in London on 5 November 1873. He migrated to Melbourne in the care of his parents, Joseph Henry and Marian Flack, arriving in September 1874. He attended Melbourne Grammar School between 1886 and 1892.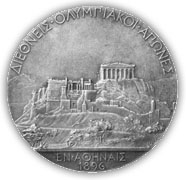 Edwin Flack achieved considerable success as a middle distance runner and repesented Australia in the first Modern Olympics held in Athens in April 1896. He won Australia's first ever Olympic "gold" medals, winning both the 800 and 1,500 metre events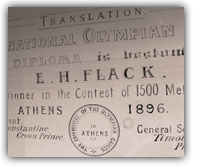 In 1914 he was appointed an Australian representative to the Olympic Congress, Paris.
In 1917 he became the Senior Partner of Flack & Flack which later became Price Waterhouse, and in turn PricewaterhouseCoopers, in Australia. He purchased the property, "Burnbank" in Berwick, Victoria and established a well-regarded Friesian cattle stud. He also held directorships in leading Australian companies.
Edwin Flack died on 10 January 1935 and his ashes were interred in the Berwick cemetery. Edwin Flack did not marry and the name, "Marian" included in the name of the Trust, is that of his mother.
Edwin Flack's original 1896 "gold" medals, memorabilia and diaries have been loaned by the trustees on a permanent basis for display at the National Sports Museum, located at the Melbourne Cricket Ground.
Public acknowledgments to Edwin Flack
The Edwin Flack Reserve located in Berwick

A postage stamp of EH Flack released by Australia Post in 1996

The inaugural Australian Olympic Committee Edwin Flack Lecture delivered in 1998

A bronze statue of Edwin Flack unveiled in High Street, Berwick in 1998

A street running alongside the Olympic Stadium in Sydney named Edwin Flack Avenue in 1999

The Olympic Torch relay passed through Berwick and stopped for a community luncheon celebration at the Edwin Flack Reserve on 7 August 2000

In 2004 the training oval, running track and training facilities adjacent to the Olympic Park Stadium in Melbourne, named the Edwin Flack Field

Legend, Sport Australia Hall of Fame 2009

The Edwin Flack Footbridge built over Olympic Boulevard in 2012, linking the MCG with Melbourne Park and AAMI Park